Times Past Places Distant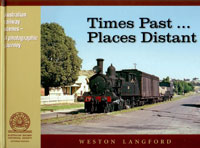 Available from the Australian Railway Historical Society Online Shop.
---
Using this Website
There are 38,325 photos on this website. Given the large number of images the best way to access them is to use the search page to find photos of interest. Photos are also able to be browsed by date taken.
New Photos
Previously unreleased photos of the Melbourne underground loop immediately after construction are now available. To view search for 'MURL'.